G=GLUTEN FREE V=VEGETARIAN
Soup
BROWN ALE FRENCH ONION $6
Provolone & Gruyere au gratin
BROWN ALE BOULDER $7

Provolone, Gruyere & Bleu cheese
SOUP DU JOUR $4c, $6b
Salads
TOSSED FIELD GREENS $5, $8 (V)
Carrots, red onion, tomato, cucumber & flat bread cracker
CLASSIC CAESAR $6, $9

Romaine, garlic croutons & Parmesan
BABY KALE $6, $9 (VG)
Roasted beets, local butternut squash, toasted sunflower seeds, red onion, fresh chèvre, maple-Meyer lemon vinaigrette
PEARLY'S CHOP $6, $9 (VG)
Romaine, cucumbers, provolone, tomatoes, red onion, olives, pepper, carrots, balsamic
FALL HARVEST $6, $9 (VG)
Tender field greens, local gala apples, toasted pistachios, carrot, red onion, shaved Parmesan, roasted local kabocha vinaigrette
add chicken, salmon or steak to any salad for $4
Small Plates
HOUSE MADE PICKLES $6 (V)
Whole grain mustard, crostini
SPICED LAMB MEATBALLS $10
Grilled house-made Bavarian preztel, Weyerbacher Tiny sauce, house PBR mustard, buy the farm smokey herb sriracha
KOREAN BBQ PORK TACOS $12
Marinated Kurobuta pork belly, Asian pear kimchi slaw
TUNA TWO WAYS $10
Seared tuna sashimi with Thai chili aioli, tuna tartar with avocado mousse and cucumber served with house made focaccia crostini
SLOW-SIMMERED CHICKEN FLATBREAD $9
Rustic garlic aioli, tomato, onion, spinach, cheddar-jack cheese
BEEF SHORT RIB FLATBREAD $11
Local trumpet mushrooms, spinach, roasted red pepper, red onion marmalade, Gruyere, provolone
FIG AND GOAT CHEESE FLATBREAD $9
Honeyed figs, spinach, fresh chevre, alehouse onion (V)

CRABBY MAC $9
Creamy cheddar mornay sauce, cavatappi pasta, lump crab, brown butter bread crumbs
Sharing Plates
BEER BATTERED CALAMARI $11
Sauce diavolo, scallions
ALE HOUSE WINGS $10
All natural chicken wings, Strawberry reaper (G), buffalo, honey chipotle or Bourbon BBQ
TOTCHOS $12 (G)

Braised pork, queso dip, pineapple salsa, roasted chili crème, guacamole, tater tots
ROASTED GARLIC HUMMUS $10 (V)

Chilean olive oil, fresh cracked cumin, artisan pita
PEARLY'S QUESADILLA $10
Choice of vegetarian, chicken or BBQ pork, with cheddar-jack cheese, tomato, red onion, chili lime creme, guacamole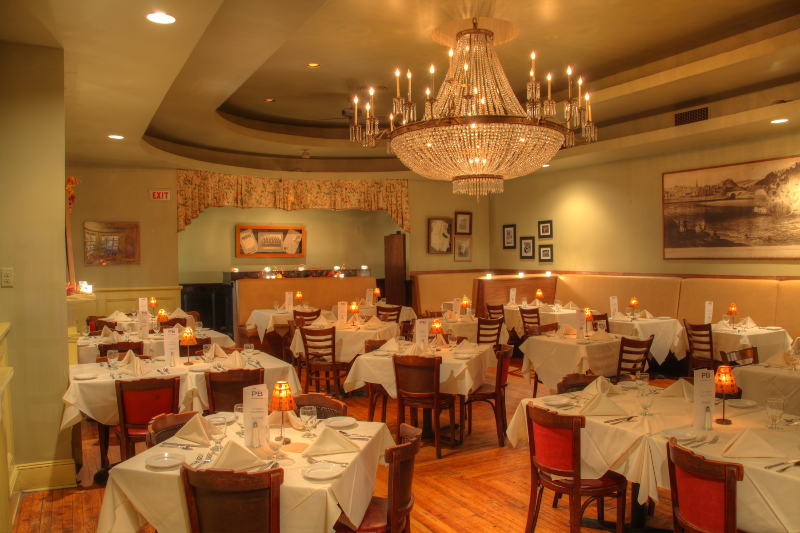 Hereford Beef Burgers:
Includes house-made yam chips or chef's cold side
You may substitute fries or onion rings $2.25
FRONT STREET $8

Lettuce, tomatoes, red onion
LOCAL GRASS FED BEEF $10
CENTRE SQUARE $10

Cheddar, bacon jam
LOCAL GRASS FED BEEF $12
JAMAICAN JERK $10

Cheddar, jerk spices, pineapple salsa, BBQ
LOCAL GRASS FED BEEF $12
ALE HOUSE $9

American cheese, onion rings, beer mustard
LOCAL GRASS FED BEEF $11
SMOKE HOUSE $10

Smoked cheddar, bacon, smokehouse mayo
LOCAL GRASS FED BEEF $12
THE JESTER $12
Winner of the 2015 PB's burger week! Valley Milkhouse artisan blue cheese, local bacon, tabasco aioli, Weyerbacher Tiny reduction sauce
LOCAL GRASS FED BEEF $14
Other Burgers:
Includes house-made yam chips or chef's cold side
You may substitute fries or onion rings $2.25
BLACKBEAN, QUINOA & CORN $8 (V)

Pickled red onion, tomato, avocado, cilantro pesto
SALMON $11
Red onion, tomato, dill aioli
TURKEY $9

Cheddar, guacamole, chili lime creme
LAMB $12

Local wild mushrooms, Gruyere, ale mustard
Main Plates
USDA PRIME FILET CUT SIRLOIN $24
8 oz. natural black angus, smashed potatoes, shaved Brussels sprouts, red wine demi

LOCAL MUSHROOM AND LEEK TAMALE $17 (VG)
Wild mushroom and leek stuffed masa cake wrapped with banana leaves and steamed. Served with sundried tomato brown rice risotto, spinach, crsipy fried black beans, agave rosemary butter
PISTACHIO CRUSTED FILET OF SALMON $20 (G)

Kabocha brown rice risotto, baby bok choy, Asian pear chutney
BRAZILIAN GRILLED CHICKEN BREAST $16 (G)
Brazilian fried potato cakes, haricot verts, chimichurri sauce, crispy fried black beans
FISH AND CHIPS $19
House beer-battered cod, crisp Idaho potatoes, malt vinegar tartar
BRAISED SHORT RIB $22
Smashed potatoes, spinach, local trumpet mushrooms, mushroom jus
BBQ GLAZED DUROC PORK SIRLOIN $18
Chipotle BBQ glazed, house made cornbread pudding, southern style braised kale $18
DOGFISH HEAD BRATWURST CAVATAPPI $17
Pork bratwurst made with Raison D'Etre, cavatappi pasta, alehouse onion, roasted red pepper, spinach, sundried tomato, leeks, local butternut squash, shaved Parmesan, blush Chardonnay cream sauce
PAN SEARED TUNA $18
Chilled soba noodle salad, baby bok choy, house pickled ginger, wasabi creme
BUTTERMILK FRIED CHICKEN AND WAFFLES $18
Fried half chicken, bacon chipotle cornmeal waffle, shaved Brussles sprouts, maple gravy
SWEET TREATS
GUINNESS CHOCOLATE FUDGE BROWNIE
Our signature dessert! Served with Bank St Creamery spiced rum-pecan ice cream and warm chocolate ganache
BROWN SUGAR & VANILLA CREME BRULEE
Sugar, spice & everything nice
SOUTHERN TIER PUMKING ROLL
Classic cream cheese icing, chai latte creme anglaise
LOCAL APPLE COFFE CAKE
Scholl Orchard apples, brown sugar-cinnamon crumbles, ginger infused caramel sauce
PEANUT BUTTER CHEESECAKE
Mixed berry compote, caramel drizzle
Please note that consuming raw or under-cooked foods may
increase your chance of food borne illness.